>>Click Here for the Best Price on the Porter-Cable895PK on Amazon<<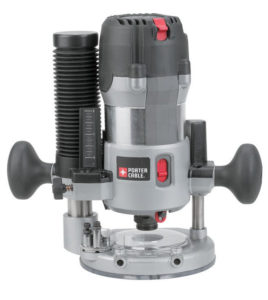 I've been using Porter-Cable routers for decades – I've always been a big fan. My most previous model was the 893PK, so when the Porter-Cable 895PK router kit came out a couple of years ago, I knew that it was time to upgrade.
Although it's a little bit more expensive than some of the other popular routers for sale, the Porter-Cable 895PK delivers top of the line quality that you simply can't expect from other lower end brands. It's definitely my favorite router to use on a regular basis. And although it costs a little more, I think that the value it adds is definitely worth it.
While many routers can be quite loud during operation, the Porter Cable 895PK runs extremely quiet which makes it a much better choice to use in smaller spaces and garage workshops. In addition to its smooth and quiet functionality, this router is packed with enough features to make is useful for a wide range of different purposes.
Why Buy the Porter-Cable 895PK?
Just a few of the great features and characteristics of the 895PK include:
Bit speed is fully adjustable all of the way from 10,000 to 23,000 RPMs, making this a great router choice if you have multiple applications in mind
Machined brass bushings are used to assist the steel guide rods in creating a smooth plunge stroke through the plunge base
Don't worry about dust going everywhere thanks to the Porter-Cable 895PK's column dust collection built into the plunge base
Comes with a convenient molded case which makes the router both easy to transport and durable against any on the job drops
The depth rod has six adjustable positions for its turrets which provide you with both stepped and repeated cuts
Powered by a strong motor boasting 12 amps, the 895pk utilizes real-time electronic feedback in order to deliver constant and steady motor power and speed no matter what the application
Porter-Cable 895PK: Is It Right for You?
Like I mentioned early on, I'm a big fan of Porter-Cable routers in general and I always have been. I also do a lot of different woodworking projects and am constantly using my router – especially while working on my recent router table plans. If you don't need a piece of equipment that is going to hold up to so much use and abuse, you may be able to get by with a more affordable, entry-level router.
But if you consider yourself an active hobbyist or even a professional woodworker, there are few other models that can compete with the Porter-Cable 895PK. It's designed to last for years and years, even under the most intense job site and workshop environments. It can definitely take abuse: I've already put mine through plenty.
Final Thoughts on the Porter-Cable 895PK
Ultimately, if it fits within your price range, I absolutely do not think that you can go wrong with the Porter-Cable 895PK router kit. It is a solid, widely functional router that delivers consistent results every single time you use it. And it's made to last – even with the most intense use, your Porter-Cable will last for years, if not decades, with proper care and maintenance.
>>Click Here for the Best Price on the Porter-Cable895PK on Amazon<<